How do PR and SEO work together?
You may have always thought of PR as its own entity—press releases, outreach, partnerships and other public relations work seems like they stand alone; while PR doesn't affect onsite SEO it has a major influence on your offsite SEO. PR can get your website important backlinks that help your rankings and improve your domain authority.
Where does SEO leave off and PR begin?
SEO is mostly taken up by on-site optimizations—that means optimizing content, images, schema, and mobile responsiveness. There is some crossover with PR however.
SEO and PR both involve backlinks.
What are backlinks?
A backlink is any link back to your website. Do you have a Google My Business page? The "Website" link that goes back to your website is a backlink.
Are you listed on Yelp? That "Website" button is a backlink too.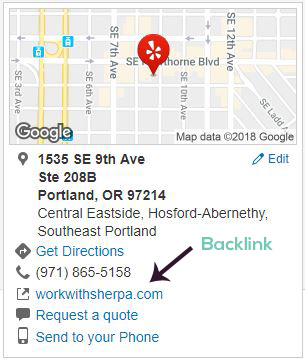 These types of backlinks are called directory backlinks. SEO involves listing your website on a wide variety of general and cannabis-specific directories including Yelp, Google My Business, Whitepages, Yellowpages, and many more.
SEO is great for directory backlinks, but PR is the best way to get organic backlinks.
What's an organic backlink?
You cannot create an organic backlink, you have to earn it. You can acquire organic links in a variety of ways including producing content that other websites want to link to, writing guest content that links back to your website, and having your PR team reach out to local news organizations and relevant websites on your behalf.
Farma had an expose written on their dispensary by the Willamette Weekly.
This is an example of an organic backlink—it isn't something you can sign up for and there's no list or directory to be found. Farma gained enough local popularity that Willamette Weekly decided to cover them, but the same thing can be achieved by a less seasoned cannabis business with the help of a good PR firm.
What makes organic backlinks so important?
Organic backlinks carry more weight that directory backlinks do. Google understands when a link is earned, and that builds greater trust than a directory link. That's why organic backlinks do a greater job of raising your website's trust and authority; a metric measured by a website's Domain Authority (DA). Domain Authority can fall anywhere between 0 and 100.
The higher your website's domain authority, the better.
Let's look at the domain authority for Google, Yelp, and Willamette Weekly.

Yelp has a higher DA than Willamette Weekly does, but Willamette Weekly is a local newspaper. Yelp might have more links, but they cover every business type all over the country. Willamette Weekly's links are specific to the Portland-Metro area.
Having a local newspaper with a high DA link to your site is a better local trust signal than a national directory website.
Both link types are important, but SEO will never get you a story in the Willamette Weekly whereas a PR Agency can.
How do organic backlinks impact website rankings?


We searched Google for "Best cannabis Portland". We got two different types of search results in the top 10—dispensary websites and list articles from major publications.
Dispensaries that ranked in the Top 10 search results were also frequently mentioned in published articles from the same search results.

The top 10 results for "Best cannabis Portland," came back with three dispensaries and seven articles. We compared how many time each of those three dispensaries was mentioned in one of those seven articles.
| Site Rank | Website | Type | Dispensary | Article Mention |
| --- | --- | --- | --- | --- |
| 1 | PDXMonthly | Article | No | |
| 2 | Thrillist | Article | No | |
| 3 | Leafly | Article | No | |
| 4 | Leafly | Article | No | |
| 5 | Serra | Location Page | Yes | 3/7 |
| 6 | PortlandMonthly | Article | No | |
| 7 | Farma | Home Page | Yes | 4/7 |
| 8 | Yelp | Article | No | |
| 9 | Yelp | Article | No | |
| 10 | Jayne | Home Page | Yes | 2/7 |
As you can see, the top two dispensaries in the search results were mentioned in three and four of seven articles in those same Top 10 results.
Each article mentioning a dispensary also had an organic link going back to the dispensary's website.
A PR firm can help you acquire organic backlinks, resulting in Top 10 search result placement even when most of those spots are taken up by list-type articles. The more competitive the search query is, the more organic backlinks can help your dispensary or cbd website seo so your site places higher in the search results.
What were the results for a more competitive term?

| Site Rank | Website | Type | Dispensary | Article Mention |
| --- | --- | --- | --- | --- |
| 1 | Serra | Location Page | Yes | 5/6 |
| 2 | PortlandMonthly | Article | No | |
| 3 | Leafly | Article | No | |
| 4 | Portland Best Buds | Home Page | Yes | 2/6 |
| 5 | Farma PDX | HomePage | Yes | 6/6 |
| 6 | Thrillist | Article | No | |
| 7 | Greeley Gallery | Home Page | Yes | 2/6 |
| 8 | PotGuide | Article | No | |
| 9 | Yelp | Article | No | |
| 10 | WillametteWeekly | Article | No | |
If Farma has the most links, why aren't they ranking first?
There are dozens of other factors at play.
Best Buds has "Portland" in their Domain URL. That means that every single page on their website contains "Portland" in the URL.
Serra has multiple locations. That means they have twice the number of directory listings as Farma does.

You can see how much higher Farma's DA is than Best Buds. This also shows you how much "Portland" in the URL helps counteract Best Buds poor Domain Authority.
While organic backlinks don't guarantee top search result spots, they really help. When it comes to online marketing, you'll want to take advantage of every edge you can.
We've partnered with Play Nice PR in order to provide our clients with industry-leading cannabis SEO and PR at the same time. When the companies that manage the individual aspects of your online marketing work together, they can create a targeted plan without the same sacrifices an "all-in-one" marketing company has to make in order to avoid specializing.
If cannabis marketing was simple we wouldn't need two spreadsheets and 3 different check tools to explain how dispensary SEO and PR work together. Hiring a professional cannais marketing team is a strength, not a shortcoming. We're happy to show you the way when you're ready to partner with an experienced cannabis digital marketing guide.