Marketing with Twitter for your Cannabis Company
Twitter is one of the best places to market your cannabis company. It works well for dispensaries, farms, marijuana distillation and refinement companies, and bakeries.
That's because Twitter doesn't police their content nearly as strictly as many other social media platforms. This makes it one of the best places to build a social media following. Because content is limited to 280 characters the time investment to a company can be minimized.
Adjusting your company's Twitter "sensitive content" filter.
If you haven't had a conversation about marijuana on Twitter, you may be surprised to find that they briefly attempted to censor marijuana-related hashtags in March of 2017.
You will still want to check your content filtration settings in your company profile. Make sure to turn off the Twitter content filter so that your posts aren't automatically marked as sensitive.
Posting the right cannabis content on Twitter
Tweeting secondary cannabis content
You don't have to produce loads of original content to run and leverage a successful Twitter Profile. Marley Natural posts significantly more content produced by others than they do their own in-house content.
They haven't lost any followers in the process, and compete with similar product brands whose profile is almost dedicated to original content.
Marley Natural
Tweets
2,466
Following
443
Followers
108K
Likes
777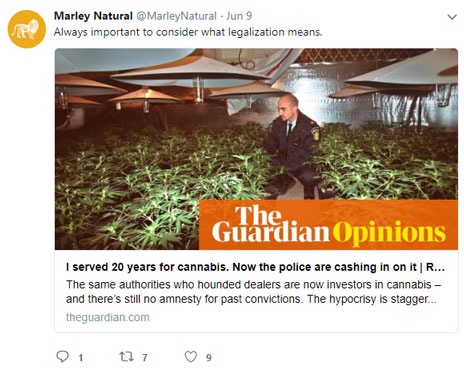 Tweeting interesting and industry relevant links is a great way to position yourself as an overall cannabis resource for your users. This also removes the need to continually post fresh, self-created content.
Common relevant cannabis post types
Medical Advancements
Cannabis Legislation
Decriminalization
Opinion Pieces
Industry News
Legalization
Product Listicles
Health Studies
Beauty/Skin Care
Tweeting original cannabis content
When it comes to original content, your primary focus should be on the image accompanying the tweet. You want to produce interesting imagery that's on-point for your brand. The focus should be on shareable images that maintain your company style, voice, and feeling.
Heavy Hitters is a cannabis concentrate company that posts gorgeous pictures of their products. They use color palettes and accessories that match the product design as well as interesting visual layouts.
Heavy Hitters
Tweets
1,684
Following
164
Followers
172K
Likes
297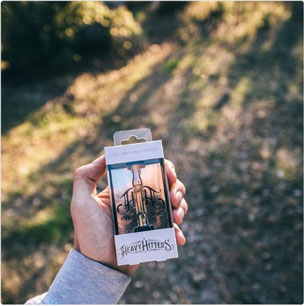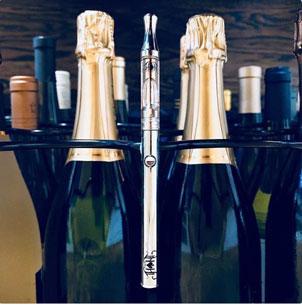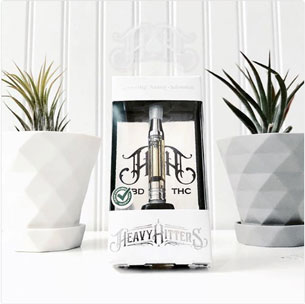 Using Twitter hashtags to your advantage
There are the obvious hashtags you can use that include the name of the strain, your company name, the type of delivery method, the strain type, and the location the image was taken at.
These hashtag options shouldn't be the only ones you utilize. Consider how hashtags are used. They offer a way to search and aggregate information. You can use a hashtag to reach audiences that my not have discovered your Twitter feed otherwise.
Reach out to #wellness, #yoga, #health, and other categories of Twitter users who would be interested in MJ content.
So what other demographics may be interested in following your cannabis company twitter feed? These hashtags are pulled directly from some leading cannabis brands.
#advocate
#epilepsy
#wellness
#glutenfree
#health
#workout
#mothersday
#microdose
#marchmadness
Follow Twitter user guidelines
You should make sure to read Twitter's Rules and Policies before posting. Make sure that any employee you assign to craft Twitter content also reads, understands, and follows these rules.
What are some common mistakes?
Creating multiple profiles: This is one of the easiest mistakes to make. Make sure you only have one profile and that your company is the only one with the ability to change or recover a password.
Whether you employ a PR company or individual employee to carry out your cannabis social media strategy, the last thing you want is to be locked out of your account after the end of a business relationship.
Posting inappropriate content: Twitter consider inappropriate content to be graphically violent or pornographic in nature. Their adult content policies are enforced at their discretion, so the easiest solution is to keep your tweets free of exposed skin and suggestive poses.
Hateful conduct: Your Twitter feed represents your cannabis company, and that includes how you interact with users. Make sure that you don't use any inflammatory or derogatory language, threats, or violence.
Consider integrating a social media response review process into your Content release calendar. That way you can personally set aside some time every single week to review and respond to users on social media.
Focus on the right thing
As a social platform, Twitter is an excellent way to interact with and reach customers directly. You can't respond to everyone, but when users see that you respond to someone they'll feel like the company is engaged with their audience, even if the response wasn't directed at them.
A great piece of advice to keep in mind across all of your social media channels:
Be sure to focus on the experience rather than the product, it has more emotional weight and will increase brand awareness.
Social media isn't necessarily about the products itself, it's about the emotional impact and experience you want the customer to associate with it. That impact should carry into your website as well, and our guide to cannabis marketing can help.
Twitter isn't the only social option for marijuana-industry businesses. Learn how you can market your cannabis company on Facebook or follow our easy Instagram marijuana marketing tutorial.