An Introduction to Dispensary Marketing Techniques
February 20, 2019
CBD Marketing for your Cannabis Business
February 20, 2019
White Paper
Farma
---
At Sherpa we act as our client's cannabis digital marketing guide across the growing cannabis industry landscape. With individual states increasingly deciding to legalize marijuana, the landscape is closer to a growing island than an established continent.
Site designs are varied and evolving, branding is still taking root, and there are new competitors arriving on the island every day. A great guide understands the ecosystem. How does a site layout affect visitor actions, to embed a product menu or not, the best way to attract new users to a growing site: all of these choices affect the journey.
We work to make our client's journey as easy as possible, do the heavy lifting, and keep them safe from dangers like budget hosting, paid backlinks, and private network blogs. A Sherpa doesn't lead; they inform, they advise, and they guide. Our client's expand their digital marketing knowledge at the same time we expand their business. It's the Sherpa way.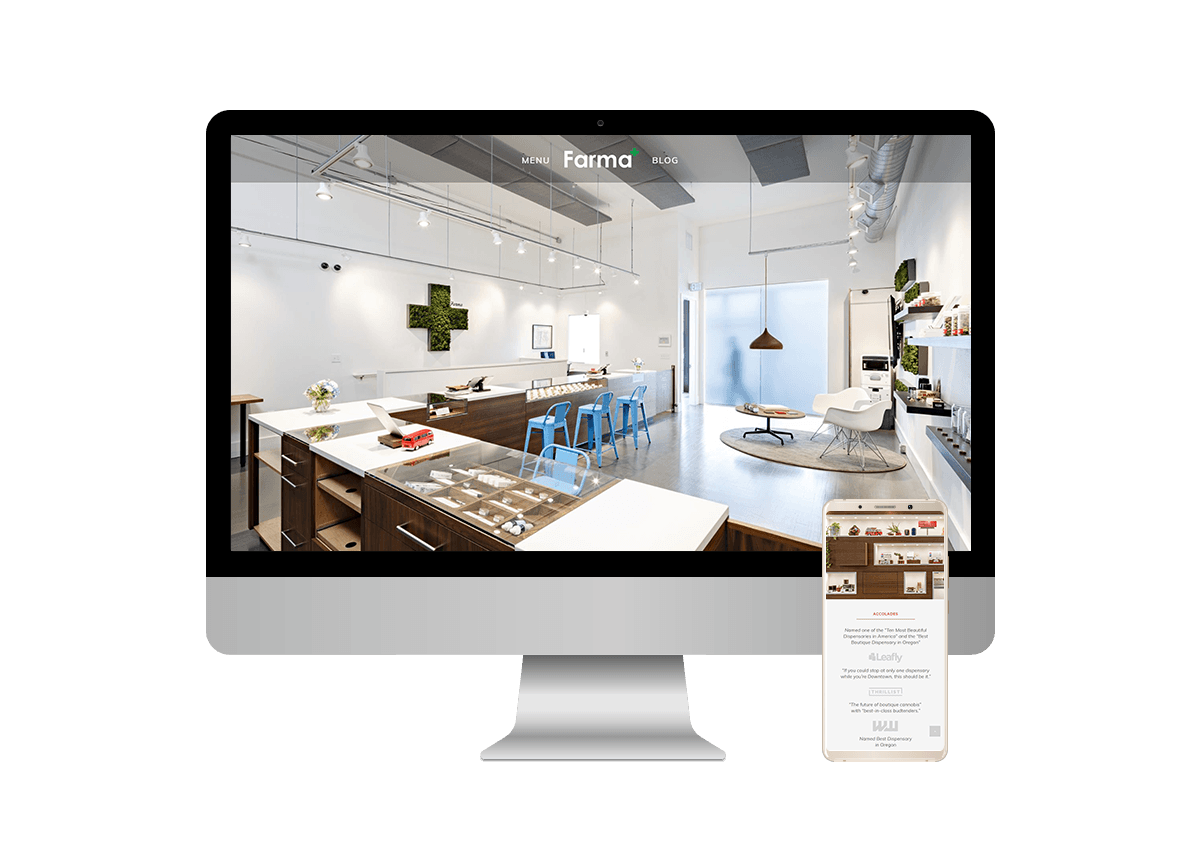 Farma Overview:
• Opened in 2014
• 1 Location in Portland, OR
• Medical & Recreational Sales
• Specialties: Boutique cannabis flower, and curated edibles and concentrates
• Site Size: 130 Pages

Organic Rankings and MAP Pack Listings
Organic Ranking Growth
Only terms ranking in the Top 10 listings on Google Organics will display on the first page of the search results.
Organic search results are worth their weight in gold, with the most clicks going to the top 3 search results. Because Google is now marking ads with an (Ad) indicator, it's easier than ever for a customer to identify organic search results. Just a single highly searched top listing can help boost page rankings on an entire site.
Prior to SEO by Sherpa
Farma only had 5 terms in the 1st position, and only 38 terms in the top 10 search positions prior to SEO.
Marijuana dispensary, weed dispensary, pot dispensary, and other major terms were all lower than 10 in Organic Search Results.
After SEO
| Term Search Position | # of Ranked Pages | % Change |
| --- | --- | --- |
| Position # 1 | 75 | +1400% |
| Position # 2 - 10 | 63 | +221% |
| Position # 11 - 20 | 63 | +311% |
| Position # 51+ | 247 | -33% |
Cannabis dispensary, medical marijuana dispensary, recreational dispensary, and other major terms were all top 5 in Organic Search Results.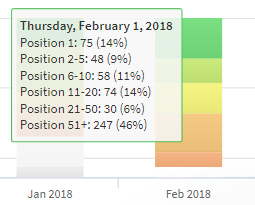 Why is
organic search growth important?
Every click into your site that keeps a user on it longer than 30 seconds helps your entire website to rank better. Aside from the obvious benefits of increased business, even one strong page can help raise the authority of your website. That one strong page shows Google robots that this is the best page for a user who types in "search query X."
What is search query X? It could be a Google search for, "Dispensary Portland", "Blueberry Kush Portland", or a long search like "Best weed strains to buy in Portland". Google uses a lot of information to decide which site page should be number one in an organic search, but just some of these metrics include:
☆ How long does a user spend on the site once they click into it?
☆ Does the user click into other pages and how many?
☆ Is the visitor new or returning?
☆ Did the user interact with the website by clicking buttons or filling out a form?
Even that one strong page can pass on some of its power to your other pages. If you rank in the top position for an Indica page, a user clicks into it and reads it, then reads your Sativa page, that Sativa page can see a rankings increase as well.
Keyterm Growth
Organic, Mobile , and Maps display unique results.
The number of keyterms, alternative terms, and long-tail terms you rank for determines how many viewers your site can get in front of. More keyterms cast a larger net. That's what makes keyterm growth an important rankings factor, because a large portion of high ranking terms that aren't searched for very often are worth more than a largely searched term that isn't ranking well.
Prior to SEO by Sherpa
Farma had few search terms that displayed results. This meant that Farma was not ranking for many terms on any search platform.
After SEO

New keytems increased by over 300.
That means that those keyterms or enough relevant information was added to the site for Google to determine relevance for more than 300 new terms. Those terms may not even be on the site, but latent semantic indexing from Google has determined Farma should come up when someone searches for one of their newly present terms.
Why is
keyterm growth important?
Keyterm growth often correlates directly with visitor growth. Content additions can be tracked, and Analytics Data frequently mirrors traffic growth consistent with new page additions and rewrites. Google uses a system called latent semantic indexing. This means the Google Algorithm can make insinuations about a page based on the content it contains.
For example: You search for marijuana in Portland. A website may use the terms weed and cannabis, with no mention of marijuana. If the site content is strong enough it will show up when a user searches for marijuana. This is because Google understands that weed and cannabis are interchangeable with the term marijuana.
Analytics have shown that having the keyterm somewhere on the site makes a difference. This is especially true for longer searches of 3 words or greater. Using one of these terms for a header and answering it with reliable, unique, and solid information is the best way to rank for these longtail terms.
GMB Clicks, Calls, & Requests
Google My Business User Action Growth
Google My Business provides a wealth of interesting data on GMB Listings. The most important of these are called "Actions." Actions tell you what a customer did when they viewed your GMB listing. They fall into three categories:
GMB user action types:
Visits to your website
Direction requests to your storefront
Phone calls using click-to-call
Google My Business profiles display in three different ways.
When a user clicks on a business while in Google Maps
A click into the Google MAP Pack from an Organic Search
If a business gets a Knowledge Panel in Search Results
Farma was first optimized in July 2017. It typically takes from 3 months to a year to see results from search engine optimization. Sherpa projected gains beginning in October.
Prior to SEO by Sherpa
Farma was severely under-performing prior to SEO. Because GMB only graphs the last quarter, we'll look at data between December 1st and February 1st.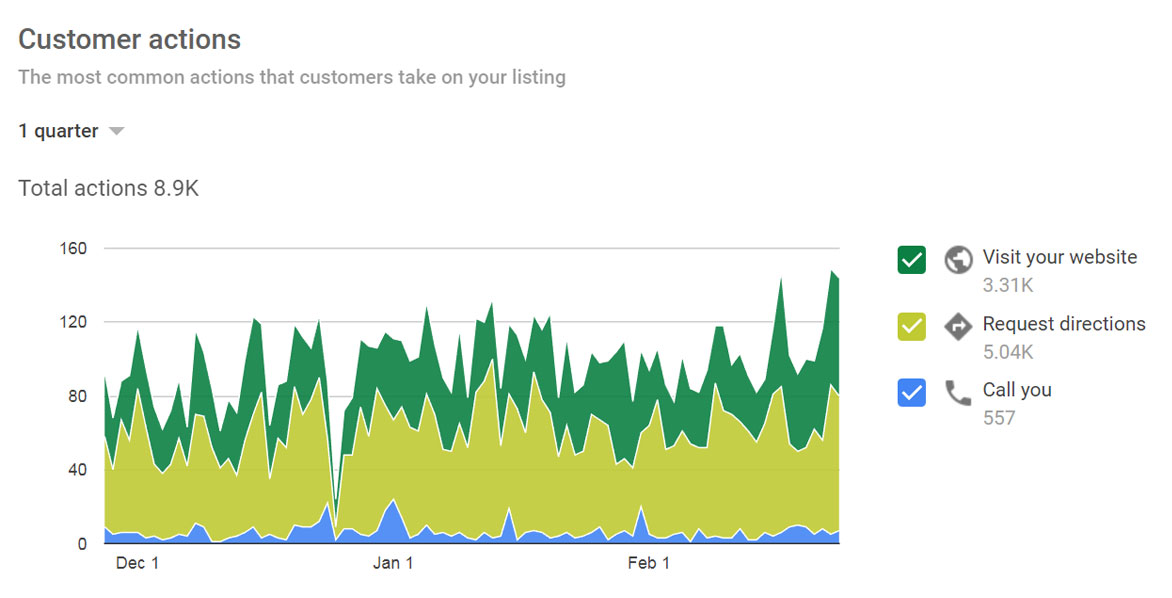 Because GMB User Action Data directly corresponds to a website's ranking in the MAP Pack, an increase in MAP Pack listings is the greatest factor in determining movement for user actions.
After SEO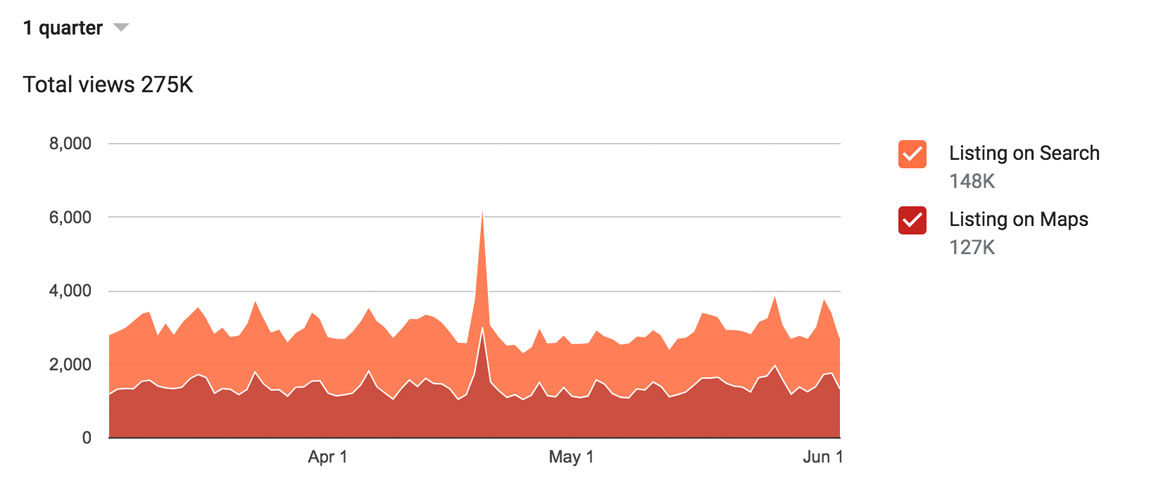 Quarter over Quarter Gains
8.02% increase in Listings on Search after SEO.
23.30% increase in Listings on Map after SEO.
57.70% increase in GMB Visits to Website after SEO.
7.54% increase in GMB Requests for Directions after SEO.
7.00% increase in GMB Phone Calls after SEO.
Analysis of the data shows us that users actions have increased across the board between December of 2017 and June of 2018.
This is a direct result of the SEO efforts of Sherpa.
SEO creates continual growth.
"Where customers view your business on Google" shows how many impressions a site had across listings and maps. After SEO, it is easy to see that upward trends have continued beyond the initial optimization. Map listing impressions at the end of February increased by roughly 700 over the beginning of December. Listings on search and maps as well as their corresponding actions have increased into May and June.
Why do
user actions matter?
User actions give insight into the processes of a customer. Do they go straight for directions, view the website first, or make a phone call? In this instance the vast majority of users are simply choosing to go directly to the shop.
white">This means that users are either comparing directions to different dispensaries, or deciding to go to a dispensary solely based on MAP Listing rankings. When a query results in a MAP Listing the majority of users directly seek directions when a client-site ranks in the Maps.
Summary:
Between July 2016 and February 2018, Farma experienced massive growth in Organic and MAP Listings as well as Actions due to the SEO efforts of Sherpa.
This resulted in an increase of sales by 66% at their location.
Search engine optimization from an industry-specialized company can make all the difference for your business. Even with a license cap, dispensaries that do well can purchase the license of a company that has gone under, allowing them to expand an already profitable operation.
If you want to remain competitive and ensure your dispensary never has to sell its license and shutter its doors, SEO by Sherpa is your best tool to capture and convert new customers in the marijuana business landscape.