Cannabliss & Co – White Paper
February 20, 2019

Why should you demand a mobile responsive marijuana website?
February 20, 2019
Dispensary marketing is difficult.
Make it easy with the help of an agency.
---
So, why would you hire an agency when you can just market yourself, right? I mean, how difficult can it be? Let's break down everything you'll need to do to successfully market your dispensary in a single sentence.
Marketing requires research, planning, software, tracking, updating, knowledge, experience, and a whole lot of time.
You don't want to learn 3+ career tracks, a programming language, and 8 new software programs while you run your business.
Save yourself the trouble. Hire a dispensary marketing agency instead.
The growth our clients enjoy helps them to weather variables like crop prices, economic downturns, and new competitors.
Making the most of your marketing channels.
What is a marketing channel? It's a buzzword for everything that happens between the time a product is created and the time it enters a customer's hands. You may be more familiar with the terms marketing mix, or sales funnel—but whatever you choose to call it, the point is to determine where you want your marketing budget to go, and how the different parts of your marketing plan will work together.
Is your team combining long-term and short-term dispensary marketing strategies?
The easiest way to break down your strategy options are by length and breadth. Having a mix is important because short-term strategy like influencer marketing with local cannabis consumers provides a quick traffic boost, profit infusion if it works correctly, and can act like a booster shot for long-term strategies.
Short Term Strategies
Short-term marketing is based on what other people can do for your company.
(Think viral, influencer, and social media campaigns—each one requiring someone or something else to act as a bridge between your brand and the customer.)
Long Term Strategies
Long-term marketing is based on what your dispensary can do for other people.
(Think content, email, and text-message marketing—each one requiring you to directly reach out to or attract a customer by offering something directly whether it's useful information, a good deal, or a life-affirming addition to their identity.)
Long-term strategies provide the continual uptick in traffic and business that maintain the health of your dispensary. These marketing methods create lifelong customers who find your dispensary because of your message and content.
Raise your floor with
organic marketing for dispensaries.
Long-term marketing raises the floor for your website traffic, growth, and profit metrics.
You're only ever falling until you hit something. If your business isn't raising the minimum levels of website and foot-traffic your dispensary receives, then that fall will always be a long one.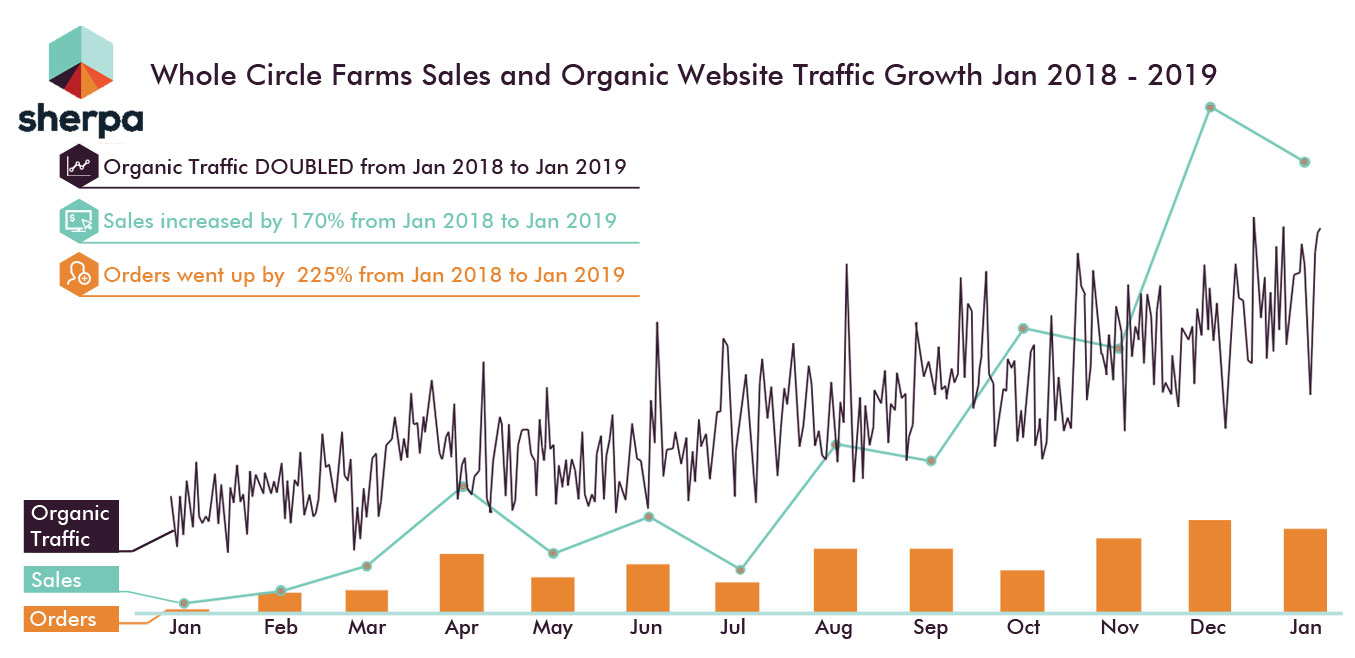 The SEO and content marketing employed by Sherpa raise that floor. Once we start building out content and strengthening your profit-driving terms, your floor raises. Suddenly a max of 50 site visitors a day and a minimum of 5 turns into a max of 150 and a minimum of 35.
How high can your dispensary can rise?