Dispensary Content Marketing
February 7, 2019

An Introduction to Dispensary Marketing Techniques
February 20, 2019
White Paper
Cannabliss & Co.
---
At Sherpa we act as our client's marijuana marketing guide across the growing cannabis industry landscape. With individual states increasingly deciding to legalize marijuana, the landscape is closer to a growing island than an established continent.
Site designs are varied and evolving, branding is still taking root, and there are new competitors arriving on the island every day. A great guide understands the ecosystem. How does a site layout affect visitor actions, to embed a product menu or not, the best way to attract new users to a growing site: all of these choices affect the journey.
We work to make our client's journey as easy as possible, do the heavy lifting, and keep them safe from dangers like budget hosting, paid backlinks, and private network blogs. A Sherpa doesn't lead; they inform, they advise, and they guide. Our clients expand their digital marketing knowledge at the same time we expand their business. It's the Sherpa way.
Cannabliss & Co. Overview:
• Opened in 2014
• 5 Locations throughout Oregon
• Medical & Recreational Sales
• Specialties: Marijuana Products and Accessories
• Site Size: 33 Pages

Organic Rankings and MAP Pack Listings
Organic Ranking Growth
Organic search results are worth their weight in gold, with the most clicks going to the top 3 search results. Because Google is now marking ads with an (Ad) indicator, it's easier than ever for a customer to identify organic search results. Just a single highly searched top listing can help boost page rankings on an entire site.
Prior to SEO by Sherpa
Cannabliss & Co. did not have any major terms in the 1st position, and only 11 terms in the top 10 search positions prior to SEO.
Marijuana dispensary, weed dispensary, pot dispensary, and other major terms were all lower than 10 in Organic Search Results.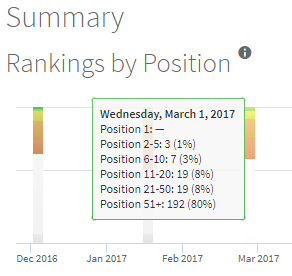 After SEO
Cannabis dispensary, medical marijuana dispensary, recreational dispensary, and other major terms were all top 5 in Organic Search Results.
| Term Search Position | # of Ranked Pages | % Change |
| --- | --- | --- |
| Position # 1 | 14 | +1400% |
| Position # 2 - 10 | 63 | +1766% |
| Position # 11 - 20 | 63 | +130% |
| Position # 51+ | 58 | -330% |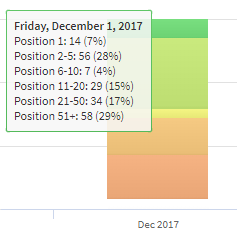 Why is
organic search growth important?
Every click into your site that keeps a user on it longer than 30 seconds helps your entire website to rank better. Aside from the obvious benefits of increased business, even one strong page can help raise the authority of your website. That one strong page shows Google robots that this is the best page for a user who types in "search query X."
What is search query X? It could be a Google search for, "Dispensary Portland", "Blueberry Kush Portland", or a long search like "Best weeds strains to buy in Portland". Google uses a lot of information to decide which site page should be number one in an Organic Search, but just some of these metrics include:
☆ How long does a user spend on the site once they click into it?
☆ Does the user click into other pages and how many?
☆ Is the visitor new or returning?
☆ Did the user interact with the website by clicking buttons or filling out a form?
Even that one strong page can pass on some of its power to your other pages. If you rank in the top position for an Indica page, a user clicks into it and reads it, then reads your Sativa page, that Sativa page can see a rankings increase as well.
MAP Pack Ranking Growth
The Google MAP Pack is always changing. It's prime real estate for Google, and you might not believe it, but the current three listings used to be seven. Now you've got Google Ads, MAP Listings, then Organic search results. That makes the MAP Pack one of the most important places to rank.
Prior to SEO by Sherpa
Cannabliss & Co. did not have any major terms that resulted in a listing on the MAP Pack. Map Listing search result averages for all terms were in the mid-teens.
Marijuana dispensary, weed dispensary, pot dispensary, and other major terms did not rank high enough in Organic or MAP Listings to show up on the first page of the search results.
After SEO
Medical cannabis Portland, legal pot dispensary, cannabis dispensary, and other major terms ranked in the top 3 positions of the Google MAP Pack.
Only terms ranking in the Top 10 listings on Google Organics will display on the first page of the search results.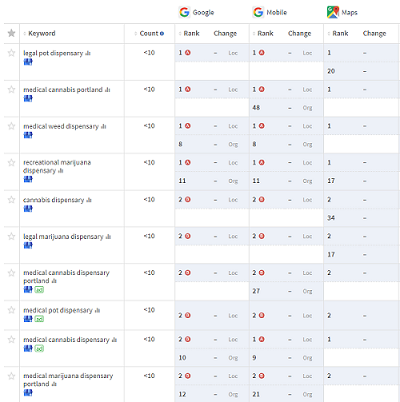 Why is
MAP Pack growth important??
Did you know that the majority of most marijuana dispensaries website traffic comes from Mobile (Cellphone) users? Whether they're at home or away from home, if they are near your dispensary you'll have a much better chance of displaying in the MAP Pack.
That's because Google makes location a major priority for mobile searchers. When they display local results they base it on a lot of factors including reviews and site relevancy.
The biggest MAP Pack factor though? Proximity. Statistically, these users convert into customers/sales at a higher rate than desktop users. That makes them your most valuable revenue stream. Getting into, and staying in the MAP Pack requires a mobile optimized site, carefully crafted SEO content, and backlinks from industry and location relevant businesses.
GMB Clicks, Calls, & Requests
Google My Business User Action Growth
Google My Business provides a wealth of interesting data on GMB Listings. The most important of these are called "Actions." Actions tell you what a customer did when they viewed your GMB listing. They fall into three categories:
GMB user action types:
Visits to your website
Direction requests to your storefront
Phone calls using click-to-call
Google My Business profiles display in three different ways.
When a user clicks on a business while in Google Maps
A click into the Google MAP Pack from an Organic Search
If a business gets a Knowledge Panel in Search Results
Cannabliss & Co. was first optimized in February 2017. It typically takes from 3 months to a year to see results from search engine optimization. Sherpa projected gains beginning in May.
Prior to SEO by Sherpa
Cannabliss & Co. averaged 10 direction requests, 4 website visits, and just 2 phone calls per day at their primary location.
Because GMB User Action Data directly corresponds to a website's ranking in the MAP Pack, an increase in MAP Pack listings is the greatest factor in determining movement for user actions.
Cannabliss & Co. saw gains soon as April, a full month ahead of schedule. These Action spikes carried over into May and August before evening out in September.
After SEO
Cannabliss & Co. averaged 22 direction requests, 10 website visits, and 5 phone calls per day.
GMB User Data directly corresponds to rankings in the MAP Pack. An increase in the number of user actions means that the resulting MAP listing is being seen by more users, a greater number of times.
Analysis of the data shows us that users actions have nearly doubled across the board between October of 2016 and February of 2018.
This is a direct result of the SEO efforts of Sherpa.
GMB Listing Impressions
How are users finding Cannabliss & Co.?
Google My Business breaks down searches into several different categories. Each of these offers specific insights into a website and how it is performing.
Relevant GMB categories include:
Discovery Searches: Broad category searches that led the user to discover the website.
A search for, "Cannabis", "Pot", or "Dispensary" leads the user to the Cannabliss & Co. Site.
Direct Searches: Searching for a business directly either by location, name, or branding.
Search Views: The number of impressions a location received from Google Search.
Map Views: The number of impressions a location received from Google Maps.

| | | | |
| --- | --- | --- | --- |
| | Oct 16 - Jan 17 Average | Dec 17 - Feb 18 Average | Increase |
| Discovery Searches | 5,364 | 6,070 | 13% |
| Direct Searches | 617 | 987 | 60% |
| Search Views | 4,797 | 7,571 | 58% |
| Map Views | 4,898 | 15,124 | 209% |
Cannabliss & Co. saw significant gains in search impression performance. These do not mean a user performed an action, simply that a site appeared in search results. When impression performance rises along with action performance, it means that there was a major shift in the number of high-level (Page 1) impressions that resulted in a customer clicking, calling, or getting directions.
Cannabliss & Co. experienced a lasting increase across all impression methods, with particularly large gains in Map Views.
When compared to the increase in direction requests, it's easy to see how much Map View impressions influence Overall Actions. With a roughly 267% increase in views overall, Actions increased from 600 daily in October 2016 to 850 daily in February 2016.
Summary:
Between October 2016 and February 2018, Cannabliss & Co. experienced massive growth in Organic and MAP Listings as well as Actions due to the SEO efforts of Sherpa.
This resulted in an increase of sales by 35% across all locations, with greater gains made by larger, central locations.
Search engine optimization from an industry-specialized company can make all the difference for your cannabusiness. The market is becoming increasingly more competitive. Even with a license cap, dispensaries that do well can purchase the license of a company that has gone under, allowing them to expand an already profitable operation.
If you want to remain competitive and ensure your dispensary never has to sell its license and shutter its doors, SEO by Sherpa is your best tool to capture and convert new customers in the marijuana business landscape.