Farma – White Paper
February 20, 2019

CBD SEO Case Study
February 21, 2019
What is the definition
of User Experience (UX)?
---
Cannabis web design is steeped in UX, and the original idea of user experience as we know it now was coined by Don Norman, a cognitive engineer and scientist who took interest in user interface in relation to computer applications as far back as 1981 in his article "The truth about Unix: The user interface is horrid." He joined Apple in 1993 and the first reference to a user experience dates to a 1993 memo from one of his first meetings at Apple.
I invented the term because I thought Human Interface and usability were too narrow: I wanted to cover all aspects of the person's experience with a system, including industrial design, graphics, the interface, the physical interaction, and the manual.
Unfortunately, user experience has become a catch-all buzz term, job title, and descriptor for everything relating to how online users interact with a website, application, or device.
Founder of the Enosis Group, an early company working to unify client-side and customer experiences said the term user experience led to "the concept of individual, real, experience, [being] transformed into some sort of generalized result."
How does user experience relate to the cannabis industry?
When it comes to an average dispensary, farm, CBD, bakery, or extract company, there are multiple aspects to the user experience that starts with a website and carries over to the menu system.
User experience as it relates to a cannabis site.
As a business owner, you never want to forget your user funnel. You can apply a generalized approach to your UX, trying to bump up important metrics like time on site, and bounce rate by increments. This is the easiest way to approach the user experience, but won't necessarily yield the best results for individual demographics.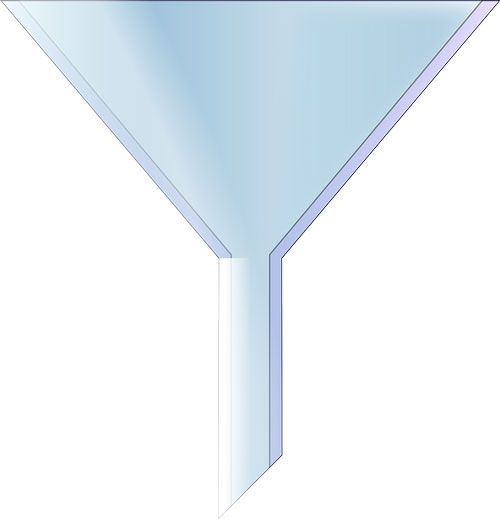 What makes up the general aspects
of a user's website experience?
Navigation – How are your users finding the information they need? How difficult is it for them to find what they are looking for, and how are you directing them towards the content you want them to see?
Layout – How is your website structured? Where are placing content and navigation elements? Is your website laid out in an expected fashion, or are users left wondering what comes next?
Content – What information is on your website, where is it, and how is it presented? How difficult is it to find the information users need, and do links and buttons take them to the content they're expecting? The most important aspect of a user experience is one of intuitive design. That requires considering your customers, potential customers, and their different needs.
Why should you invest in a UX-oriented cannabis website?
In the very near future we're likely to see responsive site design based on statistical knowledge of an individual website user. Until that time, you'll want to make your website is as easy to use for each customer as possible, but what does that look like?
Integrating funnels in your cannabis web UX
The sooner you can start sending users down the correct funnel, the better. That requires separating your users into their demographic groups and creating an easy way to separate them. What questions do you need to ask yourself to create a good funnel page?
Question 1: What are you selling?
The obvious answer is cannabis products, but these can be divided up by user type and product type.
Recreational cannabis users: You know your user base best. What products are they most interested in? Placing these cannabis products above or just below the fold on your homepage will steer those users into your Menu, and directly to the products they want to buy.
Medical cannabis users: Medical cannabis dispensary web design is a little different than a recreational or dual-license dispensary. The needs of medical users are geared towards pain management, and consumption methods and strain phenotype are a larger priority. Segmenting users by relief methods and cannabis that targets conditions may be better suited for above or just below the fold.
Question 2: Why should a customer choose you over the competition?
Identify your customer's pain points and address them in the design of your website.
Recreational cannabis user pain points:
Price – How much does your product cost and is it worth it?
Location – How easy is it to get to your dispensary?
Potency – Are customers getting their money's worth?
Selection – Do you have what your customers are looking for?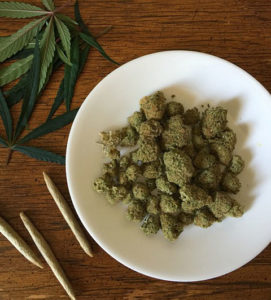 Medical cannabis user pain points:
Knowledge – Can your staff help customers make a medical decision?
Accessibility – Does your dispensary support different patient mobility needs?
Consumption – Do you have the right product for a specific medical condition?
Price – Are you offering comparable medical discounts to other area dispensaries?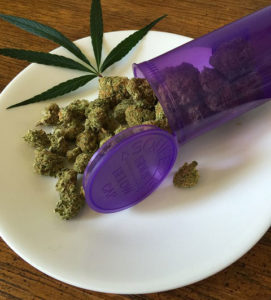 Track and improve
your funnels.
Google Analytics provides a wealth of data for cannabis companies. We advise clients to integrate it into their website as soon as possible, and it's one of the first steps we take for clients who don't have it already.
There are a wealth of options for creating and tracking funnels. You can see what page users enter your cannabis site through and track where they go, what buttons they click, and which forms they fill out.
Once you start dividing this data into demographic groups, you can begin to see funnel trends for different user types by age, location, etc. Making small changes to your major funnel pages is the best way to increase conversion and turn your online customers into on and offline sales.