An Introduction to Dispensary Marketing Techniques
February 20, 2019
CBD Marketing for your Cannabis Business
February 20, 2019
Why do you need a
responsive marijuana website?
---
Let's cut right to the chase. Google ranks cannabis website pages on every device (tablets, desktops, phones) based off of their mobile phone site rankings. This is called mobile-first indexing and it's the reason you need a responsive site. Google ranks your mobile site first, then uses those rankings for every search on every device.
What happens if your cannabis site isn't mobile responsive?
You could have all of your dispensary web design basics checked with a great website viewing experience on every desktop monitor size and browser, but if you aren't optimized for mobile your site rankings will suffer.
There's simply no way around it anymore, and there isn't a single business that can afford to have a non-optimized site after Google's update.
A poorly optimized site doesn't just hurt your search engine rankings; it hurts your offline business too. Studies show that 57% of users won't recommend a business with a poorly designed mobile site. That means that of the customers who do manage to find your non-optimized site, more than half of them will tell their friends to avoid your business.
What do your customers use to find your website?
For our dispensary, CBD, and hemp clients, mobile traffic is still increasing quarter over quarter.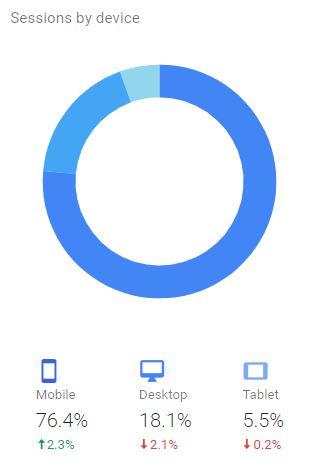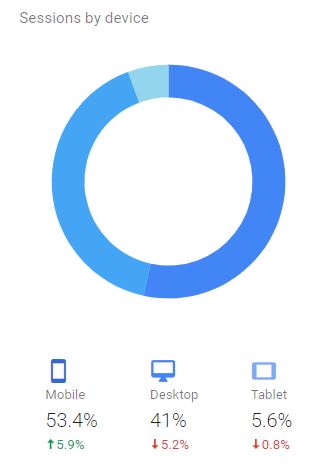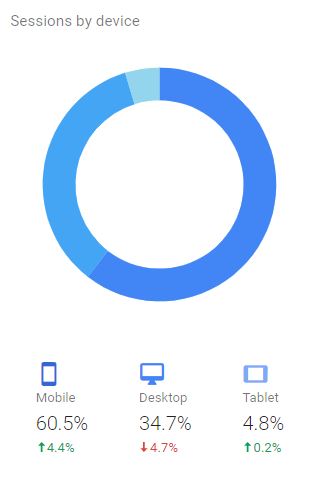 Our traffic results are backed up by many studies, especially where younger customer bases are concerned. Because Google drives 96% of mobile search traffic they control the standards websites need to adhere to if they want to survive in today's marketplace.
How does this relate
to your customer demographics?
Let's dig just a little bit deeper. According to Statistica, 39% of all consumers in the United States were current cannabis users as of July 2017.
As you can see 18 – 29-year-old adults make up the largest percentage of cannabis consumers in the United States at a staggering 18%.
What was the largest age demographic for mobile phone ownership? We'll give you one guess.
18 – 29 years old. 94% of all US adults aged 18 – 29 own a smartphone. That number only drops by 5% for 30 – 49-year-old adults in the US.
Now guess what age group accessed the internet the most in 2018? Close, it was 25 – 34-year-old adults followed closely by 16 – 24-year-old phone owners.
How does poor website mobile optimization impact user experience?
Let's look at two websites on a mobile phone. One is optimized and the other is not.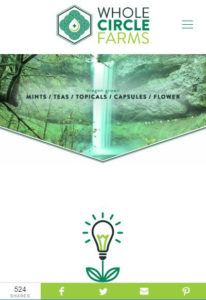 The site on the left is optimized for mobile phones. This means:
Content areas scale to fit the mobile device
Menus shrink to work with a phone
Resource hungry elements like sliders can be set so they don't load on mobile sites
The site structure has changed to focus on elements mobile users care about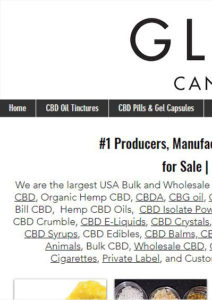 The site on the left is not optimized for mobile phones. So…
Nothing scales to fit the screen and half the content is not visible
Menus don't adjust, leaving a portion of the menu off of the screen
Elements aren't controlled, so sliders still load even on low-spec phones
The site displays identically to its desktop version
Get built-in optimization with WordPress
WordPress built cannabis sites don't just make your life as a business owner easier, the entire platform is optimized for mobile devices. We can create alternative mobile-layouts without having to design an entirely separate mobile site like hard-coding would force a company to do.
Mobile optimization doesn't have to be difficult with the right web design company, but it does have to be done. Choosing the simplest way to accomplish it is the smart move. With a WP designed site you'll get multiple sites in one because you have the option to change layouts, loading, and design elements by screen size, device, and more.
We use it because it's cost-efficient, and lets us provide a better overall value for our customers than the long slog that is hand-coding. No matter who builds your site just remember to make mobile-optimization one of your first priorities because where Google's ranking algorithm is concerned, it's your only priority.