Isn't SEO the same for every industry?
No, it isn't. That's the short answer—but where do these industry differences come from? Let's break it down. There are legality issues, data issues (Google is severely limited on cannabis search data and actively hides it in AdWords), and sales limitation issues to contend with that other industries just don't face. All of these add up to make cannabis a trickier industry to optimize for whether we're working with a dispensary, farm, cultivator, or product manufacturer.
How does the legality of marijuana impact SEO for cannabis companies?
Because cannabis is still federally illegal, there is a high turnover rate in the industry. This turnover extends to resources that are important for cannabis SEO.
We recently published a cannabis marketing plan for new businesses. It required a fair bit of research and one of the sections included 14 different cannabis-industry list sites where businesses can list themselves, get exposure, and gain a backlink.
In the time it took to write the article, 4 of those websites shut down permanently.
What does that mean?
Any company with a "Press" or "See us on the web" page that linked to their listing on one of those sites now has a dead link on their own website. The quick turnover over of many cannabis-industry businesses can make it difficult to find reliable resources that help us do our job.
How does the data drought affect cannabis SEO efforts?
Let's take a look at the results on Google Keyword Planner when we input "cannabis".

Did you notice the text at the bottom right? It says "No ideas satisfy current filters."
Now let's take a look at Google Trends.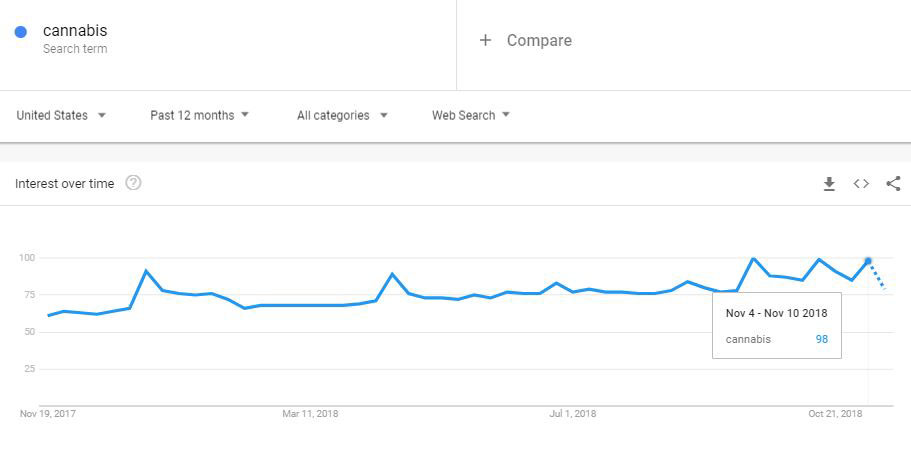 What does the "interest over time" line tell us? Google has plenty of data on cannabis-related searches, they just aren't sharing it. That makes key term research and content targeting more difficult. Even similar keyword exploration sites like Moz also utilize Google's API Key and data. An inexperienced company performing cannabis SEO for the first time won't know where to start.
Now, there are certainly other methods to identify key-term niches, but these aren't as cut and paste as a Keyword Planner search.
This issue affects cannabis companies that choose a new SEO company. Cut-rate developers that are new to SEO likely won't how to perform keyword research for the cannabis industry. This knowledge gap will negatively impact the content, the SEO, and the website's rankings. We've personally worked with businesses that had previously hired a "cannabis expert" to perform their search engine optimization. Some of the websites didn't even have enough content (sub-200 words per page), let alone the right content.
How do sales limitations impact SEO in the cannabis industry?
What are the biggest limitations facing cannabis-vertical companies?
Barred from advertising on Google and major social media sites.
Can only ship CBD products to specific states.
Can only sell cannabis products in-state.
Limited options for accpeting online payments.
Limited options for delivery services.
An oversaturated market in metropolitan areas.
Every one of these issues impacts search engine optimization.
A company may want to restrict their target market to a specific state or restrict certain products to in-state markets. It's much more difficult to restrict optimization by location than it is to optimize carte-blanche. That can make regulatory restrictions a real hurdle for site optimizers.
For example, a company that wants to sell flower in southern Washington state won't have a problem selling in WA. What they can't do is restrict their Google search rankings to Washington State. If someone in North Oregon searches for bulk flower and they show up, they may be aiding in a felony if they know the buyer intends to take their product across state lines.
Federal legalization would eliminate these issues overnight.
While we continue pushing for legislative change, we're always working with new cannabis businesses. With a client retention rate of 100% and industry experience that goes back to 2016, we're continuing to provide the best cannabis SEO in the U.S. and Canada. If you're ready to take the next step, call or contact us today.