1. Organize your CBD products.
Do you know what category your products fall into? Good organization is one of the cornerstones of CBD SEO. When it comes to a CBD specific site, you've got unique product types and you need to separate your website accordingly.
How strong are your URL's?
Do you know what your product categories are? If you use categories you can get specific keywords into your URL's without having to clutter up your page titles.
Which one of these is properly categorized?
Example 1: www.mycbdproducts.com/charlottes-web-cbd-oil-50-ml
Example 2: www.mycbdproducts.com/oil/charlottes-web-50-ml
If you guessed Example 2, you got it right.
So what product categories should you use?
Oils
Tinctures
Patches
Creams
Gummies
Pets
Cartridges
Flower
That's just to get you started.
There are a lot of product categories. One of the best ways to know whether or not you're choosing a good category is to try out a search.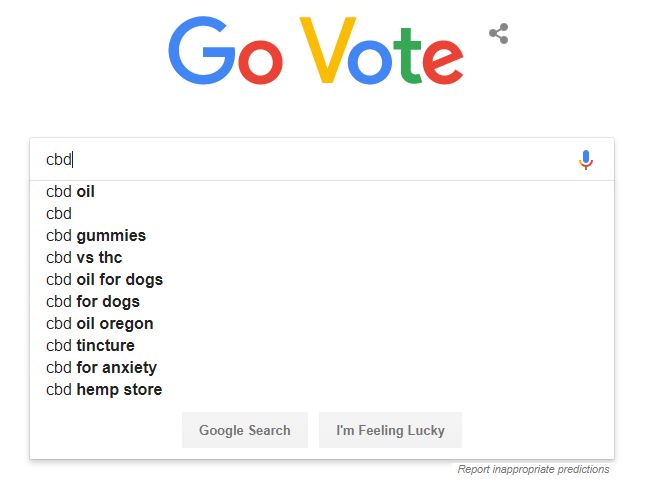 You can also use this method to identify areas of interest related to your products. These may make good blog post or FAQ topics.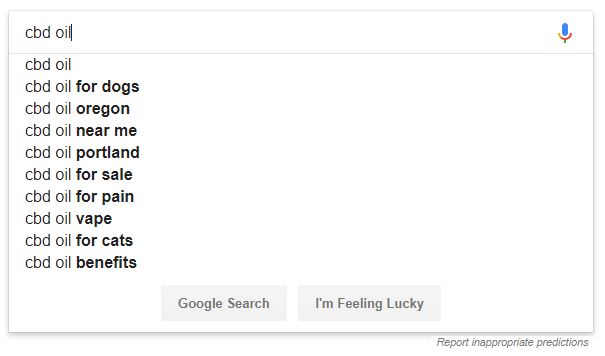 What are the other benefits of good CBD product categories?
Upselling is that much easier. – You can easily set suggested items on each product by category. If someone is looking for CBD oil, now you've got every other related product right in front of them.
Navigation is easier for the customer. – Confused customers are lost sales. Keeping your categories simple, easy to navigate, and clear makes the shopping experience that much better for the consumer.
Easy navigation is SEO friendly. – The fewer resources Google has to spend figuring out your website, the better. Clear categories make it easier for Google to scan your site and determine what it's all about.
2. Support your medical claims with trustworthy links.
Have you heard of the Google Medic Update? If you run a CBD website, you've probably been affected by it. Here's what you need to know:
Google updates their algorithm regularly. This changes the way individual websites and whole pages are ranked in the search results.
Google released a new update in August. This update heavily affected Your Money or Your Life (YMOYL) websites in the health sector.
A lot of cannabis sites have been negatively impacted. YMOYL websites focus on medical issues, claiming their products can cure X, Y, and even Z. Unfortunately, cannabis and CBD websites were affected, even when they didn't make inaccurate or untrue claims.
Disclaimer: This was written by a content strategist who doesn't know your state law on claims regarding CBD products.
So what do you do now and going forward?
Scrub or Support.
The best course of action is to scrub any information that you cannot support with links to established medical studies, pages, and documents.
Even if unsupported claims don't violate any state laws, Google doesn't care one way or the other.
If you are not willing to take the time to support the medically relevant information on your website, remove it. Unsupported medical information will only hurt your rankings from here on out. So you may be wondering, what can you do?
The lazy option: Replace medically relevant information with testimonials that highlight the same areas/points your medical text made.
The better option: Support your text using the following websites.
Google Scholar: Is it ironic that you're using a Google-built search engine to combat Google's own algorithm update? Yes. It is. Irony aside, Google Scholar is connected to an array of scientific databases in every field. You can link to these papers when they provide supporting studies and evidence.
Google News: Google News is honestly the most robust News search engine around. This a great tool for identifying new News articles that support your claims. They've also typically gone through the study they're citing, so you can safely quote the news article or the studies they cite. We recommend linking to both.
3. Update your FAQ based on customer questions.
Your customers provide you with a wealth of information. They call in to ask questions, they email, and they leave reviews.
If you want to know what's working, what isn't, and what needs to be made more clear, your customers are the ones to tell you.
Leverage the information your customers are providing you with.
What's one of the worst mistakes any company can make? Underutilizing a free resource.
Catalogue your customer's questions and answer them in an FAQ page.
How robust should your answers be?
Base your answers around how often a question is asked. The more customers who want to know about something, the more likely it is being searched for on a regular basis as well. Your FAQ gives you the opportunity to rank a page that answers these questions. Do it well and you could be the first CBD website that an interested searcher visits.
Create answer hubs when questions fall under a single umbrella. You've got several options. Create a single page that answers all of the questions about a single topic, or if you have enough relevant information, create multiple pages and link them together. Think of an FAQ as offline tech support for all things CBD.