Have you invested
in dispensary SEO?
---
Do you want to know if SEO provides a good ROI for your dispensary? You can read our white papers. Clients have reported anywhere from 33% to 500% profit growth after SEO from Sherpa.
SEO won't increase your margins, but it can certainly increase your sales and profitability.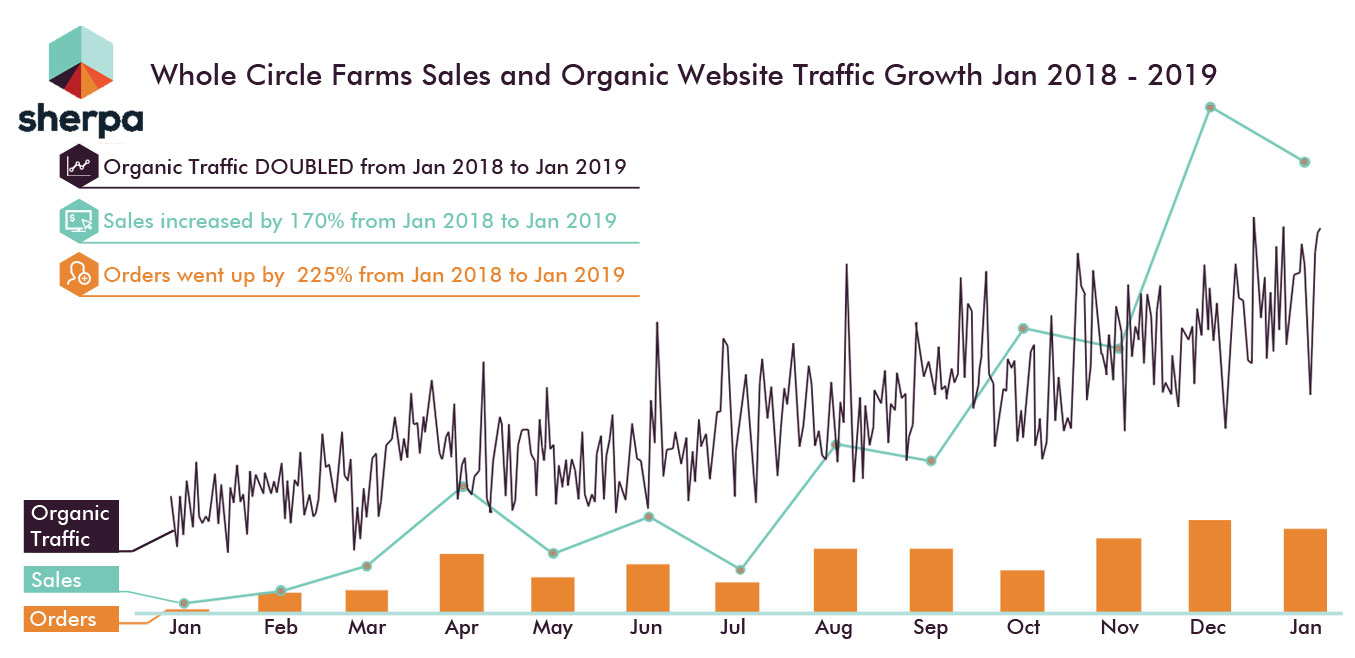 What are the
basics of cannabis SEO?
---
Performing on-site cannabis SEO including Schema and optimization.
Off-site SEO including citation cleanup and backlink building.
Content strategy builds local relevance and targets users by demographic.
What is the difference between dispensary SEO and SEM?
SEO or search engine optimization are on and off-site practices that generate web-traffic without the need for extraneous advertising.
SEM or search engine marketing is another way to say PPC or pay-per-click advertising. SEM for the cannabis industry isn't allowed by most major platforms including Google Ads, Facebook Ads, and Yahoo Ads.
Are online users discovering your cannabis site,
or the competition?
See how SEO affected Farma's website traffic
| Metric | Growth | Percentage |
| --- | --- | --- |
| Ranked Terms: Position 1 - 20 | + 199 Terms | + 355% |
| GMB User actions | + 62 Actions | + 50% |
| Map Views | + 400 | + 40% |
See what SEO did for Farma
Is Sherpa a dispensary SEO expert?
What makes a company an expert in their field? At Sherpa we have:
A 100% client retention rating.
5-stars on Google reviews.
SEO performed by an optimizer with 15 years of experience.
Sites built by a designer with 10 years of experience.
Content strategy performed by a Google Analytics Certified writer with 5 years of content optimization experience.
We constantly analyze our client's sites, investigating new ways to help them rank and revising content strategy based on previous work, actual customer queries, and the desires of you, the business owner.
| Metric | Growth | Percentage |
| --- | --- | --- |
| Ranked Terms: Position 1 - 20 | + 113 Terms | + 418% |
| GMB User actions | + 21 Actions | + 131% |
| Map Views | + 10,266 | + 209% |
| Search Views | + 2,774 | + 58% |
Cannabliss & Co. White Paper
View some of our SEO projects
for dispensaries and other clients